Every Patriots fan knows that of late the regular season is almost like a preseason to us. We know we are going to win the AFC East, the Patriots have dominated since the Brady and Bellichick era began in New England. So now that the "preseason" is over, it's time to start the real season and bring home the fourth Super Bowl in 13 years.
The Indianapolis Colts will be rolling in to Foxboro this week, and when I say rolling I mean it. The Colts pulled off a 28 point comeback against the Kansas City Chiefs last weekend, the second largest in NFL playoff history. But was the Colts comeback really all that impressive?
 Now I'm not down selling the Colts here, they are an extremely good team who has beaten a bunch of good teams this year (DEN, SF, SEA).  But Kansas City was banged up last week and if were not for that, the Chiefs would of beaten the Colts. Kansas City lost RB Jamal Charles, back up RB Knile Davis, LB Justin Houston, WR Donnie Avery, and starting CB Brandon Flowers. Losing both running backs made it impossible to run out the clock at the end of the game for the Chiefs, and losing key defensive players made it that much harder to stop the Colts. So as impressive as the comeback looked on paper, you should not automatically assume the Colts are the "team of destiny" and no one can stop them now after that comeback win.
Andrew Luck made a lot of good plays last week, but he also made a lot of bad ones. Luck threw 3 picks against the Chiefs last week, and some of them were just flat out terrible. The Patriots defense has a bend don't break mentality. They give up a lot of yards, but they also force a lot of turnovers. The Patriots have picked off 17 passes this year, and recovered 16 fumbles, leading to a +9 turnover differential. The Patriots have skilled defensive backs, led by veteran corner back Aqib Talib. They also have ball hawking safety Devin McCourty and the rising star of this defense cornerback Logan Ryan. Andrew Luck will rack up some yards this game, but I can guarantee he will throw at least 2 INT. And if you give Tom Brady a short field, he will make you pay for it.

(Logan Ryan returns a interception against the Jets for a touchdown)
The place where the Colts will really hurt the Patriots is on the ground. The Patriots lost MLB Brandon Spikes earlier in the week, who has been the anchor and the leader of this defense all year. Dane Fletcher will now get the start on the inside. Is he a good player? Yes? Is he Brandon Spikes? Absolutely not.
The Colts will take advantage of this desecrated front 7 with running back Donald Brown. Donald Brown is the running back who was overlooked when the Colts traded for running back Trent Richardson. Well Trent has been horrific since joining the Colts, including a fumble on his first career playoff touch against the Chiefs. Donald Brown on the other hand has been a solid running back this season. Brown had some key touches in last week's win for the Colts, including a touchdown. Brown ran for 537 yards this season on only 102 attempts, a 5.2 yard average. He is an explosive runner who can also but his head down and run over opposing players. Keep an eye out for Donald Brown this week, as he should have a big game.
But the Patriots can also hurt the Colts on the ground. The Colts rush defense ranks 26th in the league. The Patriots rushing attack has been eye opening to say the least this season. For an offense that has been pass first, pass second, rush third for god knows how many years, they have really started to run the ball well this season. And they do this with more than one player. LeGarrette Blount is having his best year since his second season with the Bucs. He has rushed for over 700 yards and 7 touchdowns. He picks up at least 5 yards a carry. And everyone who watches the Patriots knows this guy is a grinder. He does not go down easily, and when he goes down he always falls forward. In my opinion, which is right, besides losing Tom Brady, losing Blount on offense would be the biggest blow to this Patriots offense. Shane Vereen is another versatile weapon in the Patriots back field. He can rush the ball with moderate success, but his pass catching ability is what makes him so dangerous. Look for Blount to pick up at least 100 yards on the ground this week and for Vereen to catch the ball for at least 75 yards.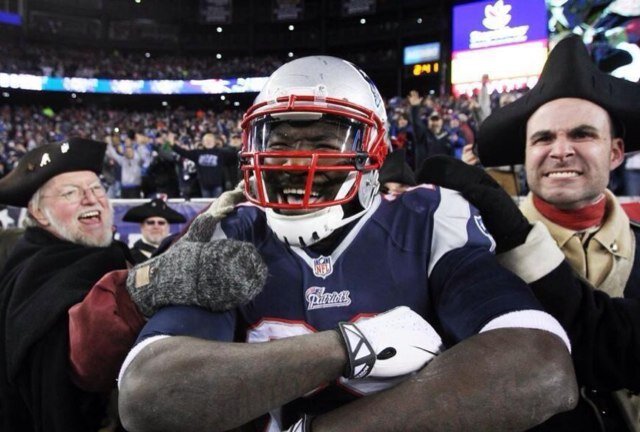 (LeGarrete Blount celebrates with the Patriots faithful)
The most important person I have not talked about in this preview is Tom Brady. Tom Brady post season record is and impressive 17-7.He has a 42 touchdowns in the postseason, and only 22 picks. But here is the most amazing stat of all, Brady has led 7 game winning drives in the playoffs. The best part about being a Patriots fan is knowing no matter what the other team does throughout the game, if Tom Brady has his hands on the ball with under 2 minutes , whether we are down 3 or all tied up, you expect to win that game. Because we are Patriots fans, we expect greatness, and we expect that because of what Tom Brady has done. Tom Brady delivers greatness night in and night out come playoff time, and I expect this trend to continue against the Colts.
The Patriots will win this game. Will it be hard? Yes. The Colts are a good team and Andrew Luck is a great quarterback, but he will make mistakes. These mistakes will be enough for Tom Brady and company to capitalize on. The Patriots will also have their way with the Colts rush defense, which will keep Luck off the field. Patriots win a close one, 27-21.